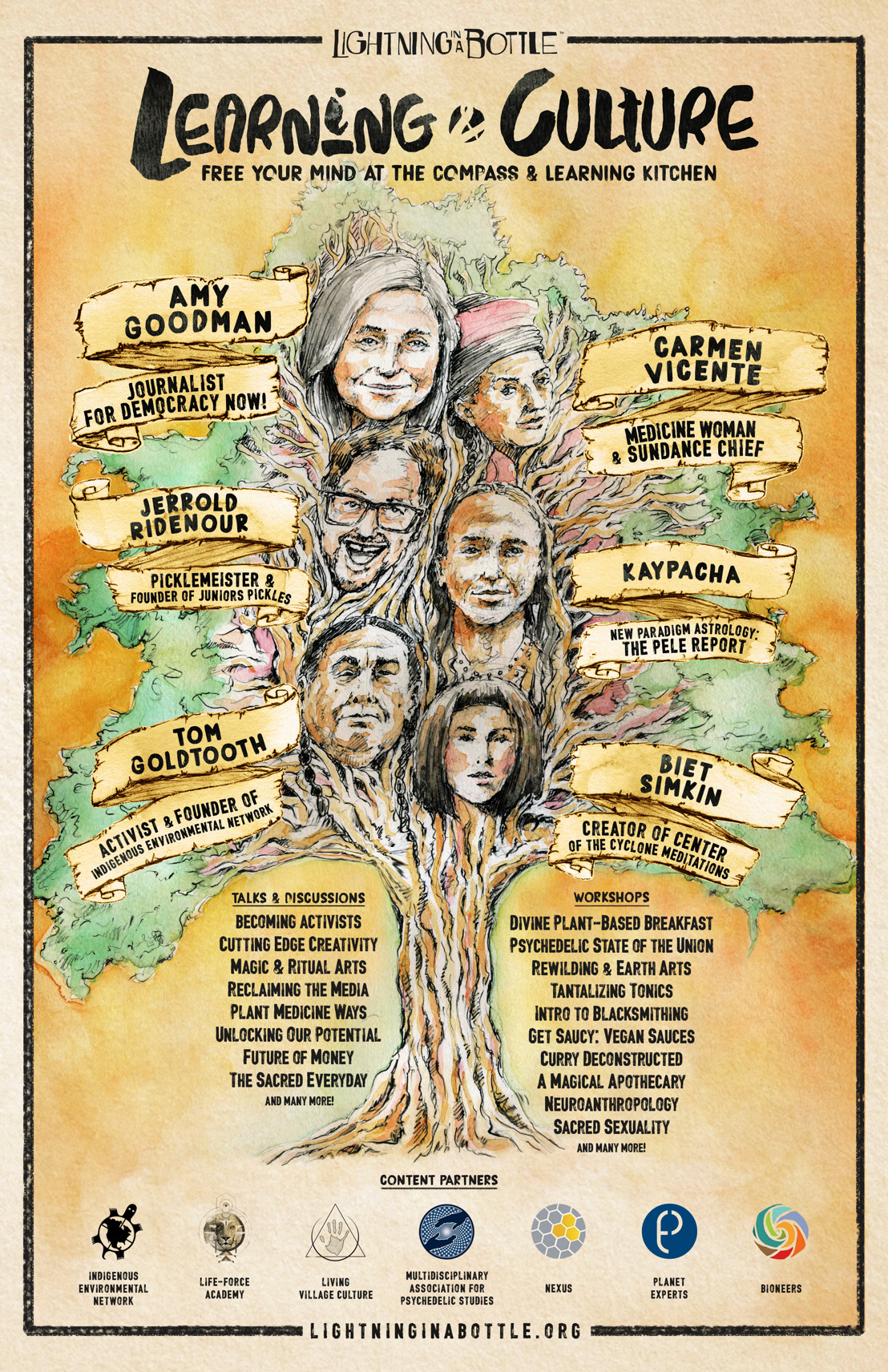 Lightning in a Bottle Announces Learning & Culture Programming for 2018 Festival
Featuring Amy Goodman of Democracy Now, Medicine Woman & Sundance Chief Carmen Vicente, Kaypacha of New Paradigm Astrology: The Pele Report, Activist & Founder of Indigenous Environmental Network Tom Goldtooth, Creator of Center of the Cyclone Meditations Biet Simkin, Founder of Juniors Pickles Jerrold Ridenour, and many more
Thursday, March 8, 2018 —
Curated in Partnership with Indigenous Environmental Network, Life-Force Academy, Living Village Culture, Multidisciplinary Association for Psychedelic Studies, NEXUS, Planet Experts, and Bioneers
May 23-28 in Bradley California
Today Lightning in a Bottle, North America's premier multi-faceted boutique festival, has announced its Learning & Culture programming offering a complete look into the educational classes, keynote speakers, and workshops for its May 2018 event.
Lightning in a Bottle's Compass & Learning Kitchen peninsula will play host to the ethos fueling elements of the event's programming, providing attendees with a chance to align with the core of this wide-reaching community. Attendees may dive into Talks & Discussions surrounding activism, cutting edge creativity, magic & ritual arts, reclaiming the media, or explore plant medicine, unlocking human potential, and the future of money. Those craving hands-on, daily applicable education may learn to create Divine Plant-Based Breakfasts, the power of Sprouting, Tonics, Vegas Sauces, and Curry, or learn the skills of Earth Arts and Holistics Health & Sexuality.
The event has curated an iconic cast of educators and thought-leaders in these realms to guide attendees through the weekend like activist Amy Goodman of Democracy Now, Medicine Woman & Sundance Chief Carmen Vicente, Activist & Founder of Indigenous Environmental Network Tom Goldtooth, filmmaker and Founder of Juniors Jerrold Ridenour, New Paradigm Astrology's Kaypacha, Creator of Center of the Cycle Meditations Biet Simkin, and many more visionaries in alternative education, nourishment, and creativity.
This year, LiB has taken special interest in centering programming around particularly of the moment topics including discussions on Living in Space with NASA Astrobiologist Dr. Michael Lee and Climate Scientist Dr. Nathan Walworth, Ethics of Artificial Intelligence with co-founder and CEO of CivicFeed Nick Loui and NEXUS Global Strategist Wes Wittkamper, and a look into Drawdown: The Most Comprehensive Plan Ever Proposed to Reverse Global Warming with Co-founder of Drawdown and Executive Director of the Buckminster Fuller Institute Amanda Ravenhill.
Lightning in a Bottle has assembled a range of content partners to act as the means through which the world created within the event and that of the outside connect. These partners include the Indigenous Environmental Network, Life-Force Academy, Living Village Culture, Multidisciplinary Association for Psychedelic Studies, NEXUS, Planet Experts, and Bioneers. Year round these entities act as a mouthpiece for the ideals that Lightning in a Bottle represents and have lended a hand in crafting the programming through which attendees may forge their own path with the abundance of tools and thought-processes offered to them at this iconic event.
It is the unique fusion of otherworldly musical environments, immersive installation art, cause-driven educational programming, and a sprawling lakeside venue that defines the Lightning in a Bottle experience. These pillars have helped the event to foster a community that has emerged beyond the festival gates and into the everyday of its followers.
Lightning in a Bottle calls on you to join them for a weekend of outrageous surprises, authentic connection, and a collective search for something more - The Most Fun You'll Ever Have In Your Entire Life.
Apply for Press Credentials to Lightning in a Bottle 2018 Here