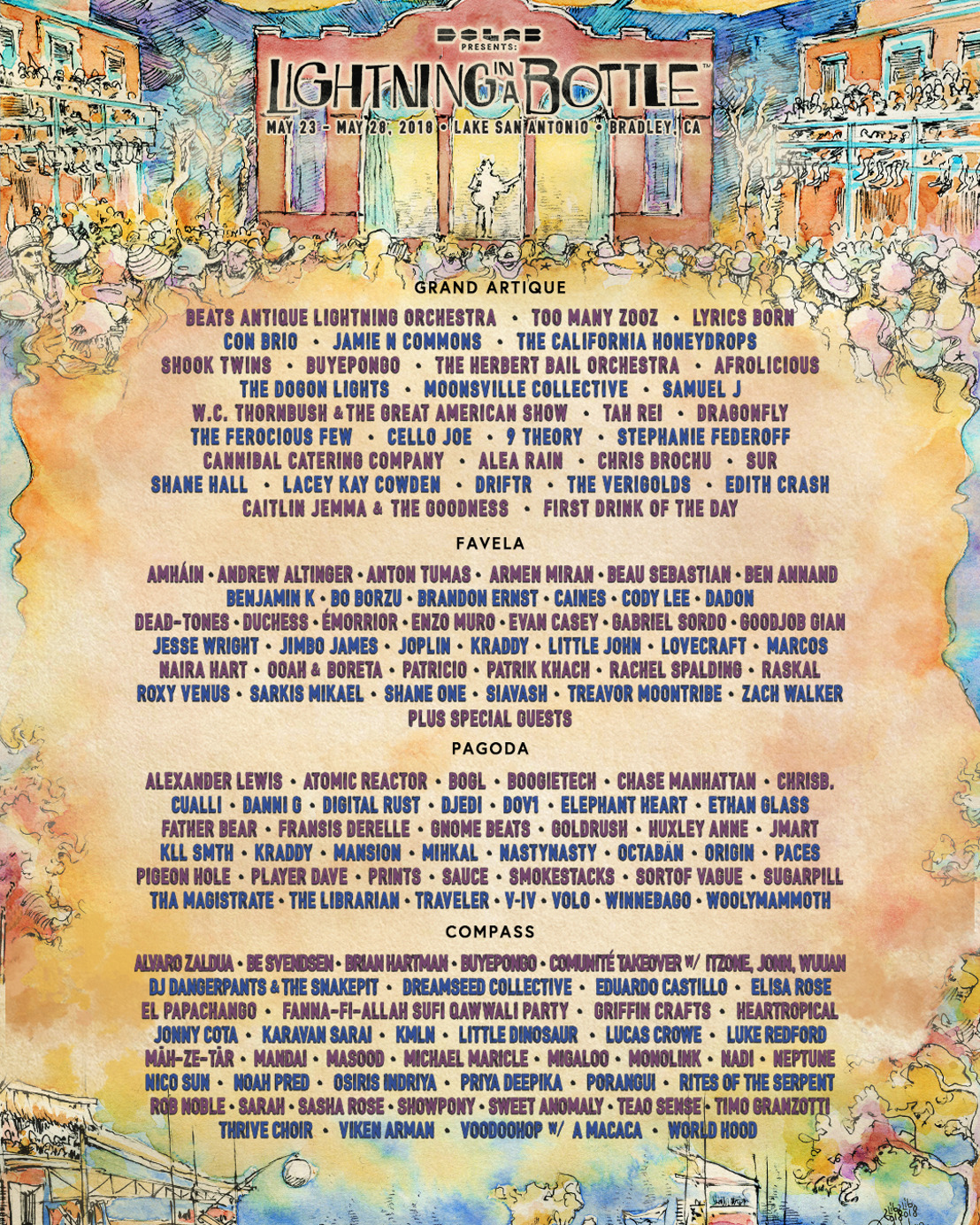 Lightning in a Bottle Announces Phase 2 Musical Lineup for May 23-28 Festival in Bradley California
Featuring Beats Antique Lightning Orchestra, Too Many Zooz, Monolink, Lyrics Born, Ooah & Boreta, Kraddy, Viken Arman, KMLN, Treavor Moontribe, Comunité Takeover w/ Itzone, Jonn, and Wuuan, Ben Anaand, Be Svendsen, Eduardo Castillo, KLL SMTH, Woolymammoth, Sugarpill, Patricio, NastyNasty, Goldrush, BOGL, The Librarian, Huxley Anne, and More
Thursday, February 8, 2018 —
Lightning in a Bottle, North America's premier multi-faceted boutique festival, today has revealed the phase two musical lineup for its 2018 event. These additions cap off an already impressive collection of selectors and live acts from all corners of the globe aimed to help guide attendees on a creative journey of a lifetime.
LiB's phase two highlights the immersive musical areas that the event has become known for like the famed western frontier of the Grand Artique, outdoor house-bumping haven of the Favela, the iconic bass haven of Pagoda, and of course the core of the festival's ethos, Compass. Each area acts as its own unique destination for wanderers and explorers, which may lure attendees in with the promise of catching their favorite act or just by the intrigue of a passer byers' ear.
Grand Artique returns for the 2018 edition with the eclectic company of Beats Antique's much anticipated Lightning Orchestra, New York's brasshouse trio Too Many Zoos, West Coast Rap icons Lyrics Born, seven piece funk and soul band Con Brio, festival scene favorites The California Honeydrops, Indie Folk Pop upstarts Shook Twins, Grand Artique mainstays The Herbert Bail Orchestra and many more.
Favela touches down again at LiB to deliver its iconic shanty feel to 4/4 lovers at the festival with a rarely scene house and techno set from Ooah & Boreta, Desert Hearts family favorite Evan Casey, a set by longtime Do LaB collaborator and Favela curator Patricio, West Coast festival scene iconi Treavor Moontribe, Pink Mammoth founder Zach Walker and many more.
Pagoda will once again act as the barometer for what's next in bass music as it welcomes heavy hitters like Colorado's KLL SMTH, Bass Coast curator The Librarian, Glitch Hop icon NastyNasty, beat enthusiast Woolymammoth, the party-starting BOGL, and a grip of other rising names in the scene.
The Compass continues to act as the eclectic ethos of Lightning in a Bottle and has as such orchestrated a worldly lineup for the 2018 event. From All Day I Dream favorites like Viken Arman and Be Svendsen, live House favorites Monolink and KMLN, Habitas founder Eduardo Castillo, and a takeover from Brazilian collective Voodoohop featuring Urubu Marinka & A Macaca, Compass's musical programming will provide a window into a global scene connected through rhythm and consciousness.
In Lightning in a Bottle music director and co-founder Jesse Flemming's own words, "We're definitely not trying to play the same game we are seeing with all the massive festivals these days when we book our music programming. Forget the big names you can see at 10 other festivals this year. For us the goal is to craft a musical playlist that will perfectly guide people along the experience we're trying to create. We book each stage to be its own separate journey on any given day and we try to diversify it as much as possible so when you're wandering around during the weekend you can always find something just right for you. This has been our goal since day one and it continues to shape how we book today."
It is the unique fusion of otherworldly musical environments, immersive installation art, cause-driven educational programming, and a sprawling lakeside venue that defines the Lightning in a Bottle experience. It is these pillars that have helped the event to foster a community that has emerged beyond the festival gates and into the everyday of its followers.
Lightning in a Bottle calls on you to join them for a weekend of outrageous surprises, authentic connection, and a collective search for something more - The Most Fun You'll Ever Have In Your Entire Life.
For More Info and Tickets Visit: